Tired of lugging the heavy 9" bulky TV into your car? Tired of trying to find the inverter to plug it into? Then what you need is one of Albert And Sons easily installed car video and/or DVD video systems. We have a unit or system to fit your needs, no matter what your budget, or vehicle.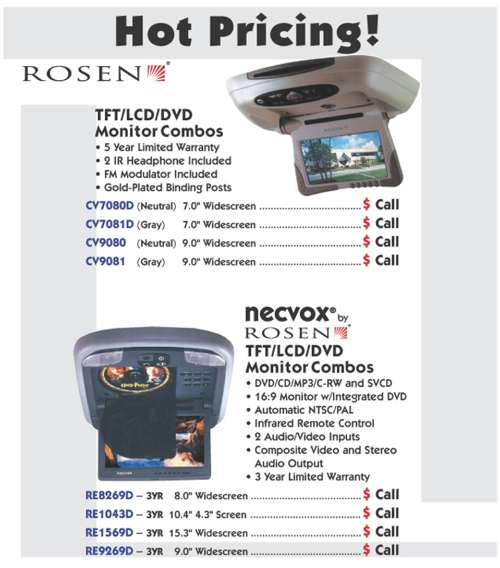 Adding a car video DVD system to your car is something that you and your children will enjoy every day. Car video comes in many shapes and sizes. Portable DVD systems make for easy installation while keeping the kids occupied for that long family trip. Permanently installed systems offer the convenience of anytime use. We even offer semi portable video systems that allow you to easily move from vehicle to vehicle.

Albert And Sons auto video systems offer many practical applications. Want to stay in touch with the latest weather report? Or, get traffic reports directly from your favorite TV station. On a camping vacation, but want to stay in touch with the outside world? Then you need a car video system with TV tuner built in. You simply connect an antenna and you're immediately connected to the rest of the world. Business minded people can now watch their favorite stock market reports while on the road. Albert And Sons even offers satellite systems that your passengers can watch while you are driving! Imagine DirecTV while on the move.

Call us at 215-726-6334 for a price and let Albert And Sons move you into the 21st century with a state of the art car video and/or DVD system for your vehicle!